Mobile Marketing Strategy
There are countless automotive marketeers that cash in on scare tactics and strive to find the next big thing to snake oil unsuspecting dealerships with; whenever a new tech is developed they toe the line and use it to horrify the dealership digital marketing directors and GM's.  If you watch them over the years as we have it is amazing how they prey on the same dealerships over and over pitching fear and over and over again the dealerships buy into the remedies they offer.  Enter Mobile.

With more and more apps being developed and more and more buyers researching  using these new tools – we recommend Axiom Mobile Tech which develops mobile marketing strategies and apps built on the AppMatrix tech and marketed by Media Crush – This platform has all the bells and whistles and a dashboard with real time analytics, geo fencing and so much more- integration is seamless!
Read on..

Almost 70% of consumers in a recent study were interested in using mobile devices to investigate vehicles
Auto shoppers have demonstrated a predilection for online research for years, and that behavior is now carrying over into the mobile sphere. A report from Mojiva, a mobile ad network that relied on analysis of its own data, along with a Q1 2012 survey, found that 69% of consumers in the US were interested in researching the purchase or lease of a vehicle using their mobile phone.
And auto consumers are showing some receptiveness to mobile ads that aligned with their shopping needs. Almost half of respondents said they considered deals and offers to be the most valuable information they could receive after clicking on a mobile advertisement. Additionally, one in five said they were interested in clicking on ads to learn about the features of a vehicle, or to watch a video about it. The same percentage of respondents said they valued ads that allowed them to sign up for future deals and offers, or other communications.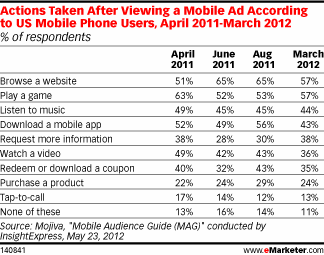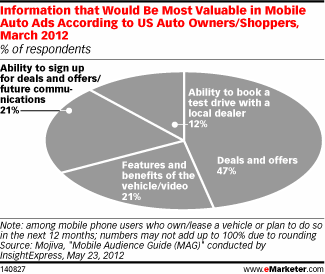 Media Crush and Axiom Mobile Tech's solutions do all this and more – feedback from clients has all been positive as our solution has a user friendly dashboard that is 100% customized to integrate with existing CRMs and other enterprise modules in operation.  PLUS unlimited blasts and pushes – we do not charge per unit!
Exposure to ads also led a significant number of respondents to direct action. As of March 2012, fully 57% of respondents said they would browse a website as a result of seeing an ad on their phone, while 43% said they would download a mobile app. And 38% said they would request more information after watching a mobile ad.

Post content curated from EMarketer
http://www.emarketer.com/Article.aspx?R=1009092&ecid=a6506033675d47f881651943c21c5ed4