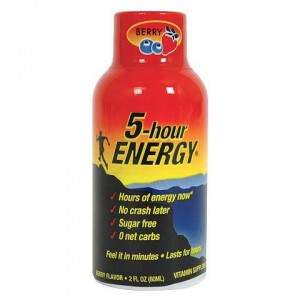 :: Background
Living Essentials is a consumer retailer and wholesaler company located in Novi, MI.  Living Essentials had experienced tremendous success with their popular Chaser Plus product.  Living Essentials had successfully penetrated the retail market nationally with Chaser Plus. To build on that success Carl Sperber was in search of a new product. 5 Hour Energy was to be the next product to market for Living Essentials.  5 Hour Energy is now well known nationally and in Canada. It fast became Living Essentials anchor product and is found in all major retailer locations where health, lifestyle and sporting goods products are sold as well as POS in many quick mart type locations.  5 Hour Energy was the first "energy shot" to come to market.  Many competitors have attempted to duplicate the packaging, look and feel; however, 5 Hour Energy remains the top seller in this type of energy drink genre.
:: The Objective
Consulted with Living Essentials and implemented a yearlong product launch campaign. Challenges included new product type to market, reluctant public, overcoming many misconceptions including health and legal concerns regarding the formula.  Media Crush introduced and branded the 5 Hour Energy "Energy Shot" to end consumers, wholesalers and retailers.
:: The Strategy
Utilize Media Crush unique and proven recipe for mass internet marketing over multi-tiered clusters to begin branding an unknown product type; "The Energy Shot".   Developed unique online ad campaign, developed database & micro sites, created unique lead generation for end users, wholesalers and retailers. Service blends included custom content, search engine optimization & marketing, product promotional campaigns, marketing research and feedback reports.
On Premise:
Introduced product at Nightclub and Bar trade show.

Tastings at various nightlife establishments, liquor stores, restaurants and vocations

( truck drivers, security professionals, healthcare) .
Provided ongoing consulting to Living Essentials.
:: The Value Add
Media Crush represented Living Essentials at Trade Shows.  Media Crush introduced new channels for wholesale and retail distribution.  Media Crush successfully initiated and branded 5 Hour as the "Energy Shot" to the nightlife sector much to the chagrin of canned competitors. Media Crush successfully implemented an initiative SEO campaigns for this new product into competitive categories on Google & Yahoo.   Media Crush wrote custom Press Releases and provided PR for 5 Hour Energy; Living Essentials.

:: The Results
Media Crush delivered a proprietary number of;  leads, opt-in email database addresses, product recommendations and a strong online presence for the 5 Hour Energy "Energy Shot".  New flavor profiles were introduced, a familiarity and confidence in the product was established. The Energy Shot is now one of the most recognized additions to many POS locations. The product is a tremendous success for Living Essentials.  Media Crush continues our work with 5 Hour Energy and often gets approached by 5 Hour Energy competitors.