#Admire
There are so many lessons bundled into the Johnny Cupcakes story…Where can one begin?
What started out as a joke and ongoing poke poke pokes at pop culture became a phenomenon.
Be aware this was no fluke or accident.
Personally, I have to offer full disclosure here and admit to being a huge fan and have thoroughly enjoyed following and supporting this brand and will continue to do so.
Johnny Inspiration!
Enjoy What you Do!
There is no doubt that John Earl enjoys what he does, keep an eye on his social media and you'll see him actually doing the posting; Tumblr, YouTube, Facebook and the JC Blog are all updated frequently add to that an often updated ebay store with collectibles and goods worthy of a trunk sale all up for bidding.  Johnny doesn't sleep.
Build Brand Value
The Jedi Master – The Guru – The Chosen One?  Nope it's lil' ole Johnny Cupcakes!
Let's see, next to zero advertising, no investors, no retail presence =  multiple boutique locations;  Newbury Street Boston,  Rodeo Drive LA,  his first store in his hometown of Hull MA and a his first international store to open very soon in London UK.
Infinitely Viral ( before it was even considered a buzz word) Word of Mouth, Internet marketing, and hitting the streets are how the foundation  was built and strengthened.
Supply and Demand
Limited edition shirts and goods create demand – PERIOD.  Long lines with some fans sleeping out to ensure they got the freshest goods of the day were the norm on release days – The first Halloween night on Newbury Street was particularly amazing.
Bakers Dozen – Quality over Quantity
My First limited edition #99 of 100 black crossbones hoodie is still in great shape after years of history and washing…The packaging through the years continues to be fun; getting items delivered from JC always is fun; each package is wrapped individually in JC tissue paper, hand taped, with a JC plastic bag containing a pin, candy, and various trading cards – most recently I got a Power Rangers…come on this is irresistible FUN!
Pay Attention to detail
A Johnny Cupcakes trademark.  Be it in merchandise, events, packaging, customer service, right down to the bakery themes of his retail locations.  Are you paying attention to details?
No one likes stale Baked Goods!
This brand continues to be edge staying current & relevant.
Almost every walk of human life enjoys this unique brand from chefs, bakers, Fashionistas, Students, indie artsy types, sneaker collectors, designers, rappers, foodies, and even Media Crushers…
Share Your Story  & Give back
Johnny will gladly share his American success story.  He is an example and truly believes that you can achieve your dreams.  He did and so can you.  Believe in yourself and work hard.  Great to see that he is doing speaking engagements including college campus visits;  if there was an optimum  time in your life to start a business this period of time is one of them. While in college  one could more easily actualize a lot of the grass roots Johnny Cupcakes business model principals, the resources, connections and network available are abundantly layered.
Serious Stuff
Johnny supports a number of charities as well – while they don't make a big deal publicizing this aspect of the brand please recognize that JC supports many wonderful causes.  He encourages anyone with a cause or a benefit that needs some support to contact him.  Certainly a custom shirt supporting your event or cause is a wonderful idea…I envision the Pink Shirts now to raise awareness and funds for breast cancer…
Customers
When Marketing meets Loyalty building the value is immeasurable!
Know your audience.
Johnny actually hangs out with his customers and brings the same unique, fun loving twist his events that amplify and actualize the brands essence.
Customer Service
Having had a recent experience in which I needed customer service I was treated as an individual and with the utmost respect. I was offered a very equitable solution to a dilemma that was provided courtesy of UPS and not via JC!   I found out that it was a nosy neighbor that thought that my "Cupcakes" package was going to get damaged in the cold….Sorry JC & UPS!
Be Fearless, Focused and Determined!
Face it turning down investment capital, corporate sponsors, retail locations and the usually and  customary brand turned fad route the Ed Hardy's of the world follow to quick riches one has to be Fearless!  Opening up consistent and well run boutique locations stocked with quality baked goods requires focus and determination; as does each and every aspect of this amazing business.
Keep it in the Family!
Johnny employs his Mom, Dad, Sister, neighbors and friends.  Old fashioned traditional business building and philosophy right?  How nice.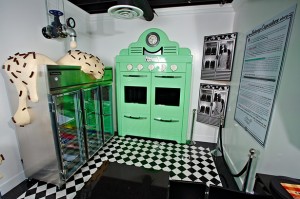 The Johnny Cupcakes brand continues to grow and thrive without use of any traditional advertising.  The hard core kid selling custom tees out of the trunk of his 89 Toyota has a multi-million dollar international brand.
Cupcakes on T-Shirts.  Sounded silly to some people I bet….
So follow the example…Get off your "bum" and do something!
It's simple advice like this that just may spur on the next baker.
# Admire Johnny Cupcakes….You can't help to keep rooting for this already successful brand its founder.  This is truly one Yummy Cupcake filled with pure American Dream!
R.Gallagher
Media Crush Kahuna