A Book on Mindfulness…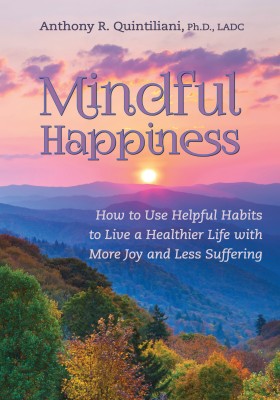 Mindfulness;  Yes, it may sound like a candidate for buzzword of the year, however, for many it has become a learned natural practice – a way to live.  The applications are many and one of this country's thought leaders has decided to start letting his voice be heard on a larger scale.  Monkton, Vermont is  a short distance from internationally renown Burlington and nestled somewhere halfway up what is seemingly a mountainous area is The Eleanor R. Liebman Center, the thought leader is the founder of the center and manages the namesake foundation.
Author Dr Anthony Quintiliani, a licensed psychologist with more than 35 years professional clinical experience a well known speaker, innovative workshop pioneer and leader of mindfulness practice retreats here casts a wide net into the personal, clinical, and societal causes of prolonged human suffering and unhappiness in his book Mindful Happiness.  The book's guided interventions are aimed at helping to relieve depression, anxiety, traumatic reactivity, and addictions – together, these conditions make up the bulk of human suffering due to mental health issues. Mindful Happiness also presents psychological interventions that reduce emotion dysregulation due to chronic and acute medical conditions. Readers that wish for help in overcoming the debilitating psychological effects of these conditions will want to read and follow the prescriptions in this book. The first few chapters are designed for self-care and emotion regulation skill building – skills that may lead readers to happier and more equanimous lives. The last two chapters contain more advanced clinical interventions, all of which are evidence-based, and are best carried out by a healthcare professional with at least a Master's Degree level of licensure. Overall, skill building is cognitive, behavioral and mindfulness-based – all focused on improving emotion regulation and reducing/ending self-medication as short-term relief from suffering. If you wish to improve your mood, reduce your anxiety or emotional reactivity, and conquer your addictions, you'll want to read this book soon. Follow and practice its guided interventions and you'll discover a path to becoming a calmer, more mindful, and happier person.
To Purchase your copy of Mindful Happiness for only $15.95  please head to Wind Ridge Books by clicking the  link below: