Hendricks Gin " Emporium of the Unusual"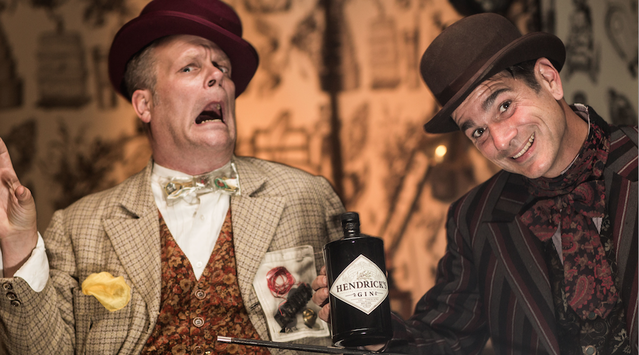 Cyclorama this week only!
People of Boston are in for a real treat when they step into Hendricks Gin's "Emporium of the Unusual" !
Get ready for a complete transformation of Cyclorama into an amazingly entertaining  and bazaar pop up event.    The invitation says it all  "In cheery defiance of the mundane, HENDRICK'S will curate an assemblage of curiosities for the mind and palate. Might we inadvertently shift the world's balance of the normal to the ODD? One can only hope. If anything is certain, it is that this will be a MOST ENJOYABLE experience over cocktails."
[youtube http://www.youtube.com/watch?v=CRsvxCS0cnE]
To RESERVE your FREE TICKET – CLICK HERE!
Every year Hendricks Gin opens its Emporium of the Unusual in various cities throughout the US.  Be prepared for a delightful carnival atmosphere where the guests can sample libations, visit exhibits and learn more about Hendricks Gin – perfect timing for  Halloween loving New Englanders!
Guest will enter and be greeted with a Gin and Tonic as they wait in the apothecary prior to entering the emporium.  The entry is something you'd expect out of a Batman movie, a massive bookshelf splits in two and the entryway is filled with fog giving way to a magical steam-punk Victorian era circus speakeasyish  style event which of course makes no sense unless your privy to an overworked spaced our  tardis and have an appreciation of various taxidermied species and libations served from jugglers!
There are six other Hendricks Gin inspired cocktails featured in the Emporium each prepared in its own special way with flavor profiles to please even the non- gin enthusiasts among them are;  Traveling Emporium Punch,  the Unusual  Negron, Cucumber Southside and the Benevolent Bog- each unique cocktail is is delivered with a nod to the surroundings.
Events such as these also include food of some sort – in this case Hendricks has delicious passed hors d'oeuvres for the guests.
Don't miss this event – running today and tomorrow at Cyclorama, 539 Tremont St, Boston MA 02116, each tasting runs for 90 minutes. Start times are:
6:00, 7:30, 9:00 and 10:30 – CLICK HERE to get in on this amazing event!