SEO – Content | Confusion | Clarity
"How Many SEO's are Really Content Marketers?"
So… you're now a content marketer and not a SEO practitioner.
You're now a strategic thinker and not just a technical or tactical implementer. You're a marketer.
What's more, you're a holistic and integrated digital marketer. You always have been, right?
Since Google introduced its Panda and Penguin algorithmic updates, we've seen a seismic shift in the way that we work "with" search engines. Pair this alongside a renewed interest and focus on content marketing and the convergence of paid, owned, and earned media and we have great opportunity.
However, what comes with that is some confusion on direction and clarity needed on what content marketing really is, where and how it fits in your organization. I am big believer in content marketing and utilizing opportunity but in order to gain clarity on the renewed focus on SEO and content marketing relationship, I decided to approach it with an initial sense of skepticism.
Content 4200 BC
Since the days of cavemen carving on cave walls people have been publishing content. This isn't a new industry compared to post-2000 search marketing. Search and digital marketing have indeed made it easier for brands to tell their story and, for many a good SEO agency, that has been part of their plans.
Since John Deere published "The Furrow" in 1895, content marketing has been right in front of the consumer eye.
Fast forward to 2012 to Coca-Cola's Content 2020 vision and we begin to see the fusing together of content marketing and digital marketing (of which SEO is a part) with its "liquid and linked" strategy.
Confusion
In 2011 the content management institute conducted a study and found that 90 percent of marketers do some form of content marketing, whether they realize it or not.
In 2012 an Outbrain and Econsultancy survey found that 90 percent of companies agreed that content marketing would become more important over the next 12 months.
Both reports provide some compelling statistics. What surprises and confuses me is the low number (38 percent) of brands and marketers that say they have no content marketing strategy in place. Brands and marketers have been producing content (as per above) long before the when Tim Berners-Lee created the World Wide Web.
What Has Changed
What has changed though is what has happened in the SEO industry and the perception of content marketing. The growth of social media and the links between content and social and search engine results has changed. That is where confusion comes into the new content equation.
It's logical to conclude, from the above, that what has changed is the interest and perception of what content marketing is. That has been driven, in the main, by SEO professionals.
1. Google – Algorithms – Panda & Penguin
In many ways Google has driven many SEO professionals to rethink their marketing strategies and shift to quality content production.
Panda was aimed to reduce rankings for low quality sites and improve rankings for sites with great, innovation, and insightful content. Penguin was aimed to remove web spam and combat link tactics that they view as black hat.
My first thought when this happened was, "how many companies will struggle and how many will rebrand?"
The data provided by Google supports this though. Note: A big thanks to 011100110110010 for researching and highlighting this trend.
Google has made it hard for anyone to gain quick results by trying to "game the search engine" or use black hat techniques. A meteoric rise in the interest of content marketing has occurred after this.
Many companies who engaged in dark art practices and tactics got hit hard. It wasn't just small sites it was also large sites like about.com – formerly part of the New York Times.
Many companies and agencies that had been producing and engaging in online content marketing strategies, as per the diagram above, found that there clients were not hit as hard by Google changes – that's no coincidence. They saw opportunity to build upon this and rebranded. Quaturo and its subsequent purchase by Bluglass managed the transition right.
2. Convergence of Paid, Owned & Earned Media
Advertising and publishing aren't new and neither is content marketing. The convergence of paid owned and earned media caused many a debate on how people pitch SEO. However naming conventions and debate around inbound and outbound techniques are really quite insignificant when you look at the bigger marketing picture.
The real, and largest, change has ultimately been the growth and rise of tools, technology, and platforms that have allowed us to build and engage with brands and clients using "pull" marketing compared to traditional content techniques – that were focused on "push." The rise of social media is all about content and engagement driven through new technology.
3. Growth of the Connected Consumer
The ability of content to attract, retain, and convert customers naturally draws parallels with conversion and purchasing funnels. However, the reality is that in today's world of converged, connected, and engaged consumerism tactics and strategies overlap in numerous areas. This has meant that customers don't all always follow a traditional funnel system.
Take social media as an example, loyalty and advocacy from one customer (sharing and promoting via influencers and friends) can lead others straight to awareness and consideration. Hence following a rigid demand funnel to map content strategy is no longer the norm if you aim to plan and prioritize quality content strategies. Why do you think we have so many venns, circle, and bubbles – it's because of the interaction and coloration of different types of media.
Mike Grehan, Publisher of SEW and ClickZ, shares some great thoughts and insights on this, which will be shared later this week on the BrightEdge blog.
4. Shifts Between Strategy vs. Tactics
One thing I have noticed is some confusion between strategy and tactics. As the media landscape grows, converges and Google forces SEO professionals and online marketers alike to re-think there approach – tactics such as algorithm chasing, tricking, and manipulating are becoming outdated. That means in order to survive and grow SEO's and online marketers alike have to take a more strategic and integrated approach.
If SEO professionals want to be content marketers, then they have to take a much more strategic approach. This involves being a holistic marketer and optimizing for people rather than search engines.
Content marketing is far more than a subtle side shift from SEO to optimizing content. Just look at the way the SERPs have changed recently. Video, social, mobile, local rankings all require much than a singular technical approach. Hope is no longer an effective SEO strategy.
If you want to be top of the CMO's agenda, who understand content more than SEO, be prepared to think like a marketer and understand cross channel and integrated marketing work on and offline and help them understand SEO in return.
Clarity
Anyone can produce content. Plenty of people publish tons of content every day. Unfortunately that does not make them content marketers. Likewise, if your content marketing strategy is just a rehash of your SEO strategy, then it could be argued that you aren't a content marketer.
Do you remember the age-old debate? Technical SEO vs. holistic search marketers. Well, the same could be said for content marketers vs. online/SEO content marketers.
If you really aim to do content marketing, then you need to take a planned, detailed, and holistic approach across all channels. If you don't have a clear plan and strategy in place then, you may get a few quick wins, but in the main you are really just creating additional noise and new forms of spam.
Strategy
Quality content comes from quality marketing planning. This is your start point.
Content marketing isn't simply reproducing content and recycling content (that comes later in the process) into an infographic or list. Using content marketing as content bait is also not a good strategy long term – especially if you simply aim to use it to create a quick link or perceived win to replace SEO.
The wins from content marketing come long term compared to traditional SEO short term, quick win tactics. The more unique and insightful content you produce, the more likely you are to rank/position in the long term.
Now that's a tough strategic decision for many to make, especially if you have employed manipulative search engine technique in the past and you clients expect similar results. Results and links are now beginning to be a byproduct of great content. Balancing this reversal isn't only a strategic decision but also a business decision for many a company moving into content marketing.
Audit
The audit process is just a vital as content creation. Auditing goes way beyond just looking at online metrics such as traffic, links, and social media data. Such audits are great if your focus is purely on certain aspects of online content.
However, looking holistically (across your organization and integrated content into multiple formats across multiple audience types) includes auditing everything from online to offline assets. Understanding business strategy, target markets, target personas, collateral, and case studies are part of this.
Auditing talent and optimizing talent to ensure content comes from all areas of your organization is a critically important and challenging process that many people skip in a rush to distribute what content they already have. What happens when it runs out?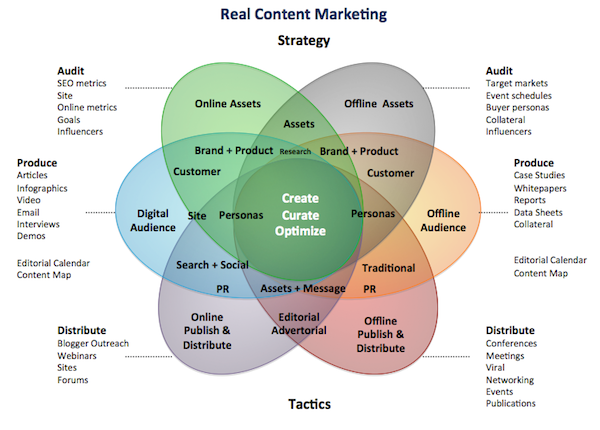 Brand and Product
Brand marketing and product marketing are stalwarts of marketing strategy. Understanding every aspect of your product and how the brand is perceived on an offline allow to begin to map content ideas to consumer purchasing lifecycles in and outside of the funnel.
What's more, doing this at an early stage gives you great insight into how to integrate your online, digital, traditional and offline. That's RCM: Real Content Marketing.
Content Production – Mature and Immature Content
This is what separates the men from the boys and the girls from the women. I have used a maturity-based analogy for a very specific reason. As our industry matures so has our approach. That started with SEO and shifts from tactics to strategies and can now be seen in when and how people produce content.
Producing quality content is hard and working how and who develops content across your organizations is a huge task in itself.
Add branded and co-created content to that equation and you have a huge resource task.
If you can identify the content stars in your organization across all functions – sales, marketing, client service, product, and corporate – then you are far more likely to produce mature and consistent content.
Mature content is thoughtful, unique, insightful, and perfectly placed. It is cleverly distributed and recycled and reproduced in line with quality editorial, seasonal, and consumer based timelines.
Immature content is what I call over production of and needless recycling of content. Sometimes, although there are some great ones out there, this takes the form of a needless infographic, repetitive content, repetitive blogging about conferences, and basic, tactical 101 guides that are produced in their hundreds of thousands. If you do this, then you should make yourself aware of the law of diminishing returns.
Distribution
This has always been a source of confusion when people talk about strategy and tactics. Distributing content is primarily a tactical activity with an online/SEO bias attached to it. There are obviously strategic considerations when planning outreach to resonate with customers and influencers but in the whole its success relies on execution.
Pitching content vs. traditional advertising is wrong. Placing advertising, even though it is paid for media, against content marketing is wrong. They are all part of the same process and start point as above.
Distributing your content and balancing editorial and advertorial, push and pull, and online and offline tactics are all part of holistic content marketing. Utilizing all marketing channels ensures that your brand story reaches the right people and in the right areas. Read more in this great post on the TopRank blog.
Conclusion
Content marketing has always been a huge and vital important part of company and marketing strategy. It sits at the top of the marketing tree and requires a combination of skill sets and matrix management across all areas of your business.
Search and SEO are a part of content marketing, but aren't the start or end point in many cases.
Those who are considering content marketing as an alternative to SEO need to have first understood integrated marketing across search, digital, and offline channels.
Real content marketing requires a top down strategic approach compared to traditional online tactical approaches (yes – we now have a term called traditional online marketing). It requires vast resource and doesn't guarantee you those really short, quick hits.
Quality content really has to be produced by individuals and not technology. Technology only distributes and helps you create and curate some of that content.
Hence identifying and managing content producers in all areas of your organization is a pre-requisite to success. Not only that, engaging and co-creating branded content with your clients are partners makes your content ever more so unique and insightful.
I'm a huge fan of SEO, but I'm also a huge fan of content and marketing. I would advise anyone to think twice before you call yourself a content marketer and produce and distribute that infographic.