Media Crush Capture Code
February 2010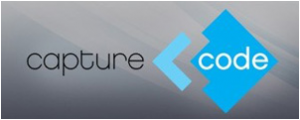 After a month of very productive exchanges we are pleased to announced that Media Crush and Capture Code have entered into a strategic partnership.
Meetings led by Capture Codes VP of Business Development David Power and Media Crush co-founders Joseph Angrisano and Robert Gallagher have resulted in the union of two powerful complimentary business models.  As both companies eye the future of search, branding, customer acquisition, lead gen and most importantly data aggregation the partnering companies see this alliance a value add to existing and future clients.
Capture Code is a ground breaking 2D barcoding company.
CaptureCode was established in Sept. 2007 to offer "Merchant Driven" prepaid cards, loyalty, and market campaign solutions using a combination of mobile, internet and POS based technologies. CaptureCode has offices in Boston, MA and New Delhi, India.
 CaptureCode is  a real-time promotional marketing solution – utilizing email, loyalty, gift card, email/sms – focused on driving incremental profitable business growth. Using 2D barcodes, that can be stored on any media – cell phones, email, plastic cards – CaptureCode connects restaurants with their customers. CaptureCode is fully integrated with POS systems and the restaurant workflow. Restaurants can now deliver real-time promotions to their customers and using analytics be more effective in their marketing efforts and drive higher ROI.
Media Crush founding partner Robert Gallagher explains "It was clear to David, Joe and I that there was a powerful opportunity for our companies to combine services and resources to increase value to our overall operations.  Media Crush completes the loop for Capture Code with our Cloud Loop technology to drive new customers to Capture Code clients via the diverse nature of the online property categories and interest groups in our network cloud.  The value add to our customers is the Capture Code 2D barcode edge data aggregation product, the ability to now take uncategorized data and find an abundance of value in modeling these data to better define offerings to our clients customer base and find clear paths to increase customer acquisition."
" We find  Capture Code to be an integral part of Beverage 2.0; a Media Crush partnership with various hospitality industry professionals.  The abilty to provide the supplier with valued data to support on and off premise marketing efforts is yet one more loop we can close together!   We are beyond excited at the potential this partnership will bring.  David has a keen industry sense and his experience with online strategies bring this partnership an even greater value."
Media Crush and Capture Code plan a public announcement of the partnership but as we are both eager to get this off to an immediate start Media Crush will bring Capture Code to the North Shore Chamber of Commerce Business Expo Tuesday February 23 and in turn Capture Code will bring Media Crush to the MRA (Massachusetts Restaurant Association) Food Show March 14th – 16th at the Boston Convention and Exhibition Center.